VORTEX REMOTE CONTROL
Management platform for remote networks
For a company to maintain its success into the future it needs to take advantage of the opportunities offered by digitalization.
Digitalization generates lower costs, improvement of production quality, enhanced flexibility, and greater efficiency. It can reduce the response time to both a customer's requests and market demands.
Thanks to the increased use of digitalization, more and more machines and production plants are being networked so making industrial communication a very important advantage offered by digitalization.
Vortex Remote Connect allows both convenient and secure access to remote plants and/or machines. Even if integrated into other networks, for remote assistance and maintenance, the Industrial Security Appliances meet the special automation technology requirements. These can include the easy upgrading of existing production plants, make commissioning easier on new plants and the minimisation of downtime in the event of fault occurrence. Various security measures can be combined subject to requirements.
ROUTER SCALANCE S615:
The device that Vortex recommend to be installed is the Scalance S615.
The actual Scalance model to be employed can be determined and specified by Vortex when they know the type of connection available on the customer's side.
IP cameras can also be connected to the Scalance. Note: an IP camera or cam is a type of video camera that generates a video signal in a digitalized format that is ready for direct transmission over the data network without the need for analogue-digital conversion. It is capable of being controlled directly via the data network. This allows Vortex to manage it or them directly and being within a LAN network the connection can be made without using apps that can on occasions be cumbersome and somewhat limiting. Vortex can supply the camera/s according to the customer's specific needs, at the same time always taking the customers and associated workforce privacy into consideration.
Vortex Remote Connect provides secure access so ensuring no unauthorized access to the client network can occur.
Even with an identical IP address a series of production machines can be easily connected via Vortex Remote Access. A dedicated device access will only allow an authorised user to access selected machinery.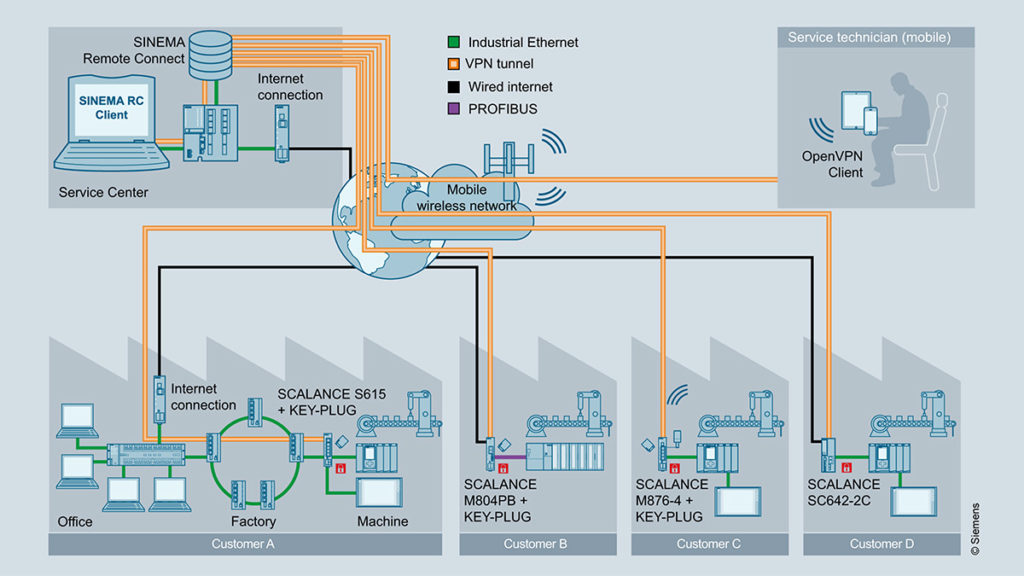 Example of a typical application
Vortex Remote Connect is offered to customers who already have a Vortex plant in operation. It is only a question of evaluating whether the existing CPU has the network connection available or whether a new one has to be implemented – moreover it can work with all types of PLCs and network devices.