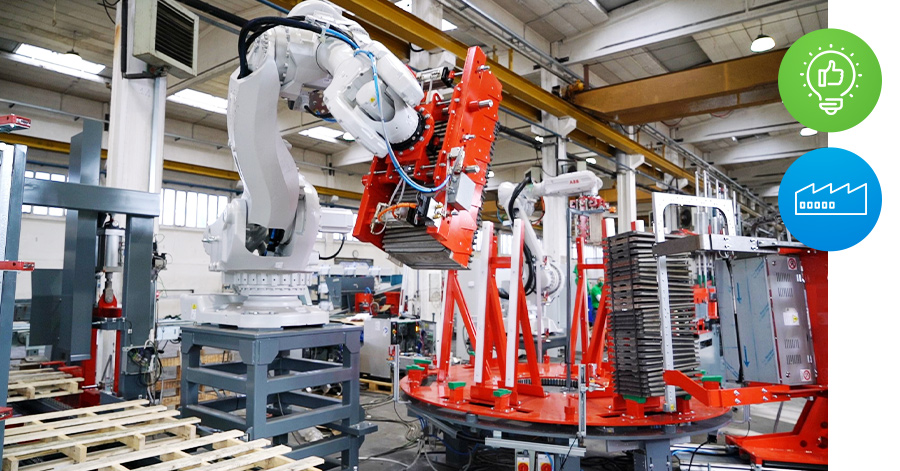 Innovation, customisation, efficiency, and specialist technical support are undoubtedly key words in the service Vortex Hydra offers its worldwide customer base. This has again been demonstrated by yet another successful installation & commissioning of a Vortex Hydra 'state of the art' automatic robotized roof tile packaging machinery.
Having changed their machinery supplier to Vortex Hydra five years ago, one of the biggest concrete roof tiles producers in South East Asia selected the specialist services of Vortex Hydra to upgrade their existing production lines in three high volume production plants located in three different countries. With all these projects now successfully completed Vortex Hydra have again proven the adaptability of company's machinery to suit the needs of different markets to the extent that this important customer now considers Vortex Hydra to be their preferred supplier.
It all began in 2015 when the customer challenged Vortex Hydra on 'how to automate an existing tile production line with the need to achieve a high packing performance yet maintain minimal capital investment where customisation, efficiency and convenience were the main objectives!' Vortex Hydra accepted the challenge and won the customers trust by offering the best solution.
Two years later with the new packaging machinery successfully in operation particularly regarding efficiency, low maintenance costs and technical support considerations the customer awarded another order to Vortex Hydra to supply a similar automatic tile packaging machine to another one of its existing production plants.
In 2020 the customer had the sole goal of increasing the efficiency of the entire production line at another existing tile plant. The plant was suffering from a 'bottle neck' in its production operation. After deep analysis of the existing problems by customer and Vortex Hydra support, it was decided to replace the non-Vortex packaging line with new machinery that had the ability to perform at a much higher efficiency by employing a high level of customisation to overcome existing problems being experienced. As a result of innovative proposals offered, Vortex Hydra were awarded another order from this customer for 'robotized' packaging machinery.
Considering the international travel restrictions in place due to the 'Covid Pandemic', a new challenge presented itself with respect to the commissioning of the newly supplied machinery. Not wishing to delay the installation of the plant, Vortex with great help and co-operation from the customer undertook the commissioning from afar using remote connections/calls techniques. The result was this new 'robotized' packaging line become the first major Vortex project to be 100% remotely installed and commissioned.
Vortex over the years have always considered that the 'on-site' presence of their installation & commissioning engineers has been a major added value to any project but are now confident that the flexibility and support demonstrated on this latest project will play a role in the decision making of new investment allocations by all 'concrete roof tile' manufacturing organisations throughout the world.
Commissioning fully automatic packing machinery is always a great experience; but being able to do it 10,000 km away is priceless!!!
Planning to upgrade your existing CRT plant – simply contact us to find your right solution.